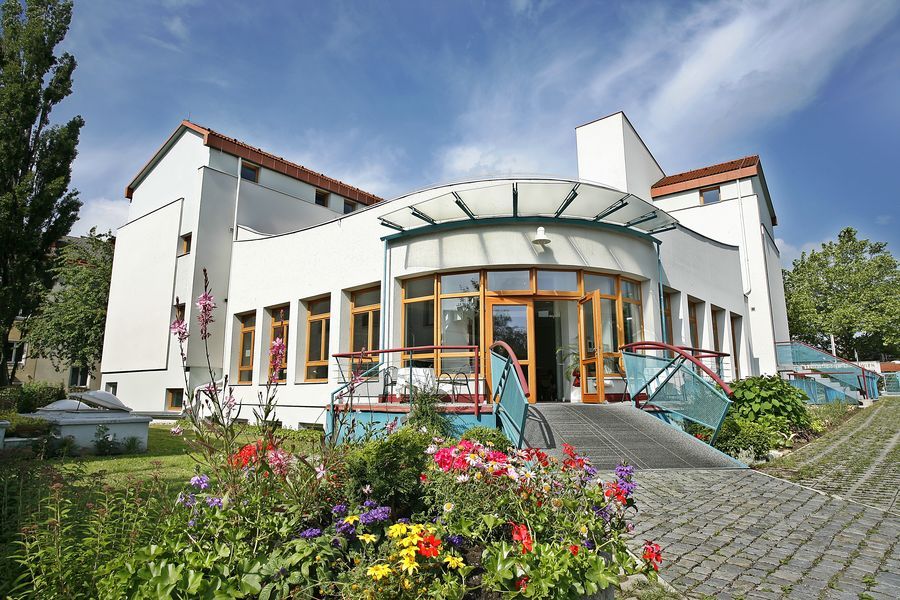 Johann-Hörbiger-Gasse 30
Austria-1230 Vienna
tel: 0043.1.8893093
fax: 0043.1.8893093.990
The "Am Spiegeln" is located within walking distance from the Wienerwald, 10' from Schloss Schönbrunn and 25' from the historical centre of Vienna.
A tranquil and natural setting in the southern part of the Vienna, where we can offer our guests everything from an ideal environment for holidays and sightseeing, to premises equipped with top communication technology for conferences and events, as well as comfortable rooms for business travellers.
How to find us by car:
FROM THE SOUTHERN MOTORWAY (a2, Südautobahn):
Take the A21 direction Linz/St.Pölten.
Leave it at Brunn am Gebirge.
Continue in direction Wien-Liesing (Brunner Straße).
Go straight ahead up to the crossing Carlbergergasse,
turn left. Continue up to Lastenstraße and turn right.
at the crossing Endresstraße turn left.
after the aral petrol station turn right into Karl-
Schwed-Gasse. Second street on the right (Friedensstraße).
Second street left –Johann Hörbiger-Gasse.
FROM THE WEST (A1, Westautobahn):
Follow the Hietzingerkai and Schönbrunner Schloßstraße,
passing in front of the Schönbrunn Palace.
at the next crossing take Grünebergstraße on the right.
Turn slightly right into Gassmannstraße.
Turn right to Fasangartengasse.
Left on Stranzen-bergbrücke and along atzgersdorfer Straße.
at the crossing Rosenhügelstraße take the latter.
at the trafficlight turn left into Karl-Schwed-Gasse.
Third left (Friedensstraße).
Second street at left Johann-Hörbiger-Gasse.
How to find us by public transport:
FROM SÜDBAHNHOF: S-Bahn train (S1 or S2) in direction
Liesing or Wiener Neustadt up to Atzgersdorf-Mauer.
Bus direction Hietzing: 60a
FROM WESTBAHNHOF:
Underground U6 in direction Siebenhirten.
Get off at Philadelphiabrücke/ Meidling.
S-Bahn train (S1 or S2) in direction Liesing or Wiener Neustadt.
Get off at Atzgersdorf-Mauer and take the bus…
(see "From Südbahnhof")
FROM THE AIRPORT WIEN SCHWECHAT:
Express bus / train service up to the City air terminal
(Wien Mitte/ Landstraße). Get on the S-Bahn train (S1 or S2)
in direction Liesing or Wiener Neustadt.
Get off at the station Atzgersdorf-Mauer
and take the bus… (see "From Südbahnhof")